Tom Wagener was born in Luxembourg on 19 February 1974.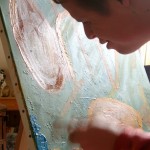 He is self-taught, having been attracted very early on by the art of colours and artistic expression. Since 1999, he has been attending an art studio in an institution for people with mental health disabilities.
In the context of his professional artistic activities, he has taken part in numerous workshops and exhibitions, both in the Grand Duchy and elsewhere (Weimar, Trier, Prato, Nassau, Deruta, Aarhus, London).
In addition to pursuing his professional activities, Tom has become really passionate about developing his powers of expression through his work as a painter.
In painting his pictures, Tom is first and foremost performing an act, rather than engaging in an intellectual process or pursuing a means of analysis – an act which, in picture after picture, reflects the same taste for capturing the moment, with a fluidity peculiar to the artist.
The continuous learning process in which he is engaged, together with his mastery of the relevant tools and his subtle use of colours, are such that each of his paintings not only obeys his prescriptions regarding proportions and precision but also, and above all, corresponds to his own instincts. And it is this assiduousness which is key to the success of his pictures. His insatiable repetition of gestures and of the performative act is such that we never descend into the repetitive – quite the contrary.
Whilst each of his gestures is composed, he does not display any certainty or self-assertion; nor is he prompted to produce works which are in any way tendentious. More than anything else, he is untamed and joyous, unfashioned and free, ungoverned and marked by a certain peregrination, and thus not held back by any handicap in his creative activities – something which inspires us all to try, modestly, to latch on to the artist's thinking and pictorial vision.
For Tom's work involves, first and foremost, the use of the imagination rather than simply re‑transcribing the contemplation of a motif. This an additional distance that is placed between the work itself and the way it is looked at by those observing it, and hence the thought that one may give to it, if and in so far as this proves necessary.
Pablo Ruiz Picasso liked to say: "I don't look for things, I find them", and echoing this, Tom has undeniably found, in the creation of his paintings, the ideal vehicle for expressing himself. From the very outset, he has sought to develop his own individual language of colours and forms, consciously and conscientiously following his chosen path as a self-taught artist uninfluenced by others.
He adopts a pragmatic and sensitive approach, and a signal feature of his art is that it succeeds in giving expression to the most complex artistic thoughts and interpretations, yet all the while in a humble way, prompting us to take a fresh look at the world of art, the world per se, and above all, his world.
The path that Tom has followed in creating his paintings goes back quite a few years and covers a significant number of works. Whilst the styles and techniques that he has adopted over that period have varied according to his inspiration and his imagination, they have combined to instil in his art a certain recognisable coherence, logic and interpretation.
It may truly be said that art is that single environment, that great garden, in which all people, whatever their handicap, can express themselves and interact freely, in whatever form they want.
All the paintings presented and exhibited have been exclusively painted by Tom in his leisure hours, reflecting his inspiration, his creativity, and his desires.